Living in a house exposes you to different risks than living in a flat.
A house, by default, is on the ground floor, with easy access which increases the risk of burglary.
The pipes that supply the house (water, heating, electricity) are often buried, therefore less easily accessible and subject to greater risks than pipes protected within the walls of a building.
The larger your house is, the larger the roof surface will be: a roof is subject to many climatic stresses and can be damaged.
For the luckiest, you may have a garden, possibly a swimming pool, an annex, a barbecue, a garden shed... These facilities take up extra space and present additional risks to be covered.
This is why it is useful, when taking out insurance for a house, to make sure that your contract includes the "Theft and Vandalism" guarantee, often optional, as well as the guarantee to protect your exterior fittings. Also check the exclusions for damage to pipes and roof.
Is home insurance mandatory for a house?
You are an owner
Individual house: Optional.
It is strongly recommended to protect the members of your household as well as your property. Without insurance, the homeowner is financially responsible for any damage that he and his property may cause to others, so it is best to take out insurance.
Condominium house: Mandatory.
Made compulsory by the Alur law in 2014 for both owner-occupiers and non-occupiers in order to cover co-ownership even between two rentals of the dwelling.
You are a renter
Rental or a shared apartment: Mandatory.
Whether for a furnished or unfurnished house, a certificate of insurance is usually requested before the keys are handed over. Exception: if your landlord has already insured the accommodation on behalf of the tenant, then insurance is optional for the tenant (payment via charges).In shared accommodation all members must be covered with the possibility of taking out insurance or pooling with a single insurer. All members of the shared flat must be covered for rental risks with the possibility of taking out insurance for each of them or pooling with a single insurer (simpler).
House occupied free of charge: Mandatory.
Exception: it is optional only if the owner lives with you in the accommodation.
Seasonal rental: Not required.
The owner may sometimes ask for a holiday insurance certificate when signing the rental agreement, to make sure that you are covered for any damage caused to third parties or the neighbourhood. This is usually included in your home insurance contract.
Corporate housing: Optional.
Insurance is strongly recommended, even if not compulsory, as you remain financially responsible for any damage caused to others. Remember to take out at least Civil Liability insurance.
Risks incurred in case of insurance default
When you live in a house, insurance is only compulsory if you are a tenant. If you are a homeowner, insurance is not compulsory but is strongly recommended. Indeed, in the event of a claim, it is your responsibility to restore the dwelling to its original state and to compensate the neighbors who would be affected by your claim with your personal finances.
GOOD TO KNOW
for tenants, not having insurance exposes you to eviction proceedings by your landlord.
Insuring your home: at what cost?
How is the price calculated?‍
The price of a home insurance policy depends on criteria related to your insurance profile, your home and the options you choose.
Your profile: are you renting or owning your home? Do you have a partner or children? Some insurances also ask your age and whether you have had claims in the past.
Your home: the larger the area to be insured, the higher the premium. Location plays an important role: if you are on the banks of a river, in an area with a high rate of burglary or close to factories with a high technological risk Finally, the number of floors, and the presence of "risky" equipment (for example a swimming pool or a chimney) will also increase the price.
Your options: the price varies depending on whether you choose to insure more or less property (this is what we call your moveable capital), whether you have a higher or lower deductible, whether you subscribe to a premium package or not...
Our advice for lowering your insurance premium
However, your insurance premium is not necessarily destined to increase to better cover you. In fact, there are a number of ways to lower your premiums:
Think about your coverage: if you have taken out insurance with a broker, he may have convinced you to take out coverage that you don't necessarily need.
Modulate your deductible: A high deductible means lower premiums.
Look at other insurers: have you taken out a quote with an insurance company that offers you the same cover as your current insurer, for less? He may be inclined to adjust your premiums so as not to lose an insured.
Finally, think about taking out insurance online. If they often offer coverage at lower cost, it's because they don't have physical agencies and therefore have fewer structural costs. This enables them to offer you very attractive rates without sacrificing quality of service.
Choosing the right home insurance
Now that you know your legal obligations in terms of insurance, as well as the criteria that define the amount of your insurance premium, you need to choose your level of coverage before you subscribe.
Choosing your level of coverage
Option n°1: subscribe to a minimum cover ("Legal minimum" formula at Luko).
This is the minimum level of cover which covers your civil liability (involuntary damage inflicted on a third party) as well as the accommodation in the event of damage due to water damage, fire or explosion. This formula allows tenants to fulfil their insurance obligation but will not cover their property.
Option n°2: take out an extended multi-risk home insurance policy ("Esprit en paix" formula at Luko).
This formula allows you to be protected for all claims under the Legal Minimum formula, but also in the event of theft and vandalism in particular. You are also covered for locksmithing costs if your keys are lost or stolen and includes assistance and re-housing services if your home is no longer habitable. Please note: additional coverage may vary from one insurer to another.
Luko is the ethical, simple and fast insurance you have always dreamed of:
Easy subscription in 2 minutes entirely online
Reimbursement twice as fast as the average insurance company thanks to our digital tools such as video expertise.
15% to 25% savings on average compared to other insurance policies with equivalent guarantees
No annual increase in 2019, 2020 nor 2021 to reward customer loyalty
Available and reactive customer service, every day, including evenings and weekends.
Prompt termination without obligation or notice
No insurer-insurer conflict of interest as the contributions not used to reimburse claims are paid to charities at the end of the year.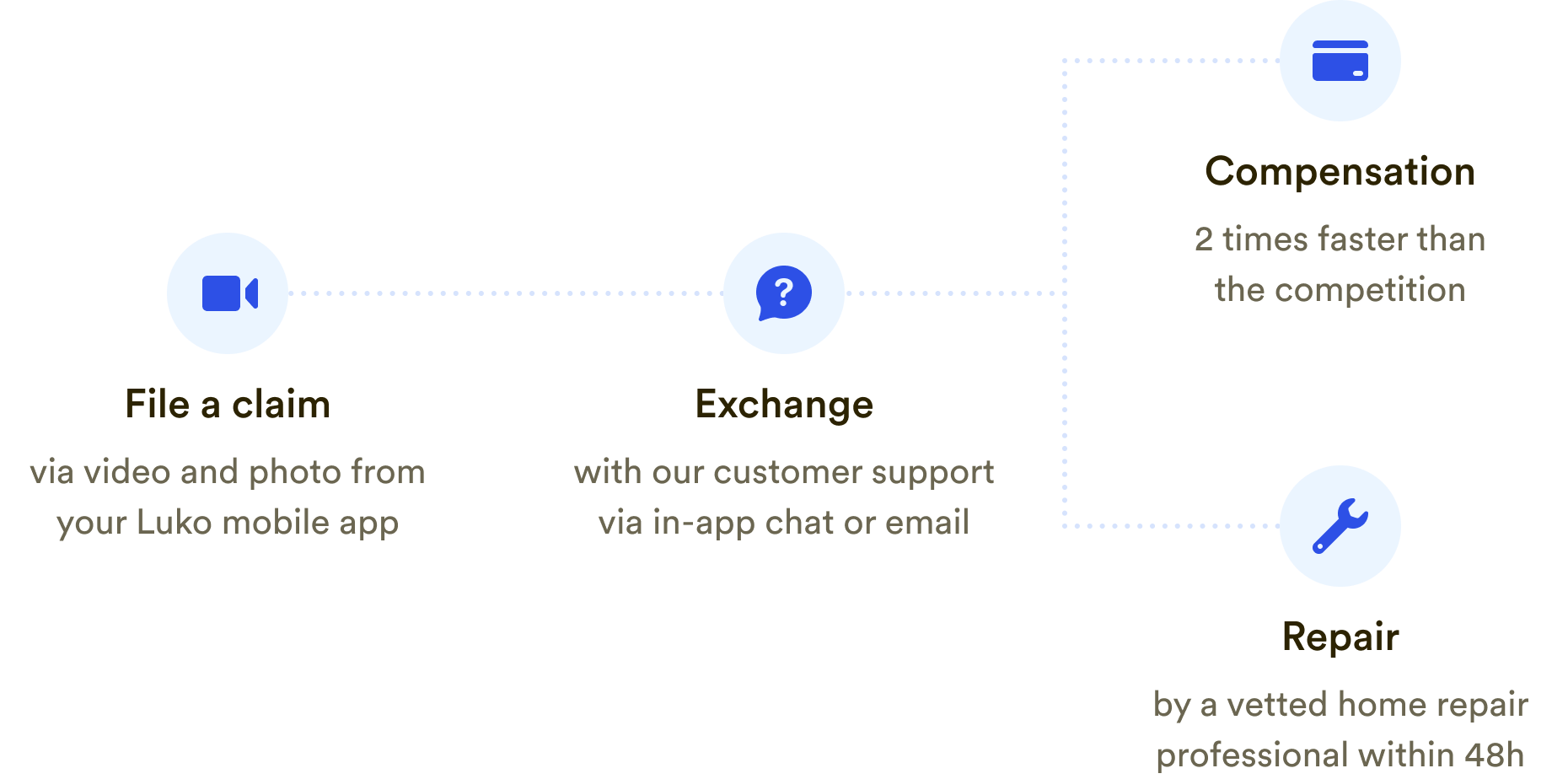 The right reflexes to prevent disasters
Home insurance gives you peace of mind in the event of an unforeseen problem. Nevertheless, we would all prefer to avoid having to call our insurance company one day. Prevention is better than cure! Here is a short list of things you can do on a daily basis to maintain and protect your home:
Have your roof regularly maintained: in a house, the roof is exposed to a lot of bad weather, which increases the risk of infiltration in case of bad maintenance.
Monitor the condition of your pipes and change the joints if you spot a drip, even a slight one.
At windows, occasionally check the condition of the joints so that you can replace them before risking infiltration.
All heating equipment (water heaters, radiators, boilers) need to be vented regularly (a boiler should be serviced by a professional plumber).
Check from time to time that your fire alarm is functional, as well as your safety device if you have one.
If you are lucky enough to have a garden, prune your trees every year and bring your swimming pool up to standard, especially if you have a heating system or if you have small children.