With 2.5 million users in France, the electric scooter has become a must-have. While 34% of Luko policyholders plan to purchase an electric scooter in the next few months, few users are aware of the obligation of scooter insurance: only 20 to 30%* of them would be covered in case of accident.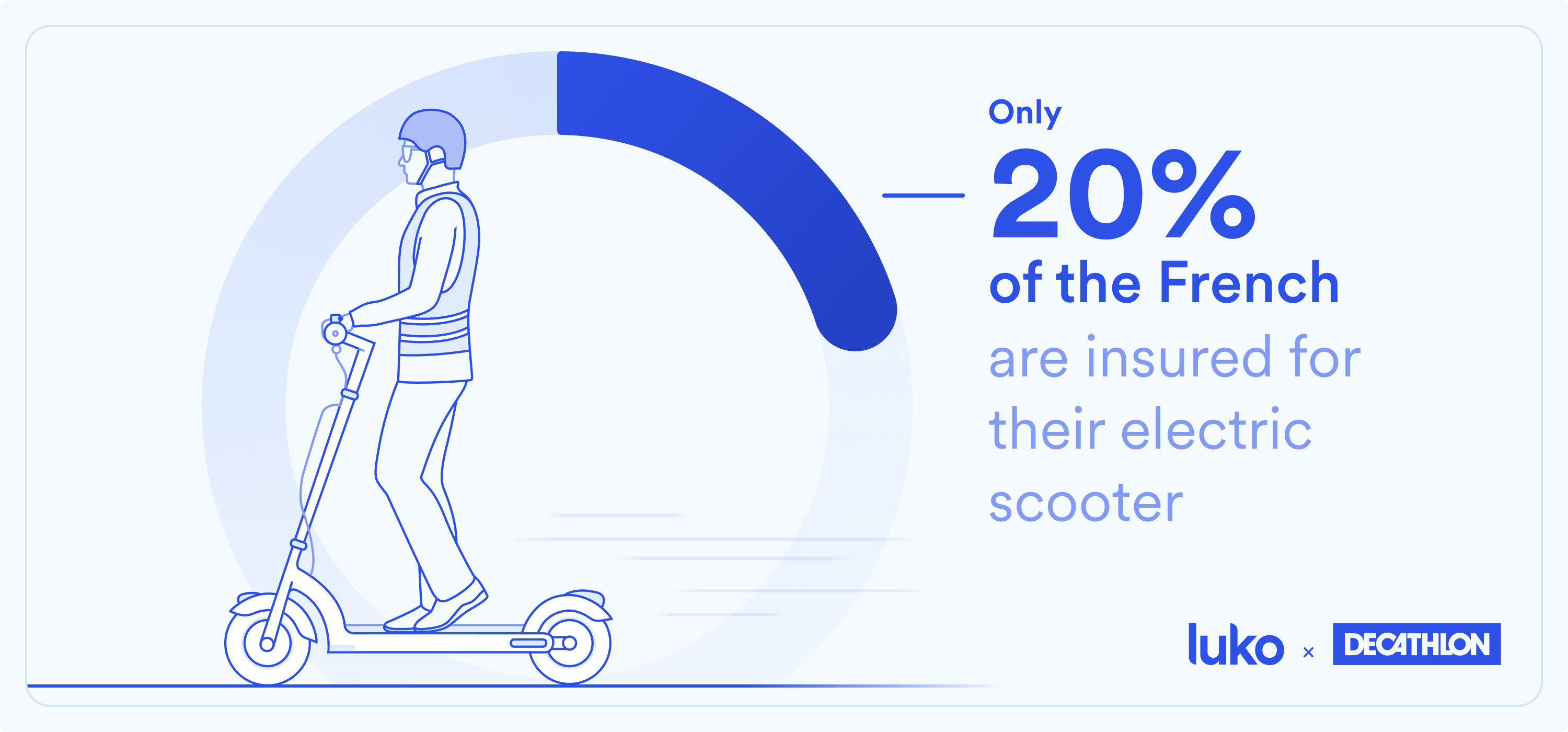 Luko takes a new step in its scooter insurance offer by collaborating with the French favorite sports equipment manufacturer, DECATHLON
Luko, Europe's first neo-insurer, announces the signing of a partnership with the French retailer DECATHLON. This fall, Luko and DECATHLON want to promote a safer use of electric scooters.
Insurance (civil liability) is an obligation for the growing number of users of New Individual Electric Vehicles (NEVs). It allows users to be covered at a minimum against the damage they could cause to others, which can quickly amount to hundreds of thousands of euros or even millions. Since 2018, nearly 1,000 claims have been found to be uncovered. 
It was therefore natural for DECATHLON and Luko, France's #1 scooter neo-insurance company, to come together to offer an offer based on the alliance of fair price and prevention. The company wants to raise awareness among French people about the mandatory aspect of scooter insurance, by offering them a "legal minimum" cover from €3.33/month. This is an obvious choice for the two companies, which share the values of innovation, fair price and customer support.
Luko offers an average of 30% less than the market, which allows each user to save 84€ per year.
"As a committed neo-insurance company, Luko places prevention at the center of its priorities. For several years now, we have been observing the explosion of the electric scooter market, but unfortunately, very few French people are aware of the insurance obligation. Thanks to this partnership, the quality of advice from DECATHLON teams will be able to go hand in hand with prevention and thus reach more French people, in order to better protect them", says Jordan Simon, Partnership Manager at Luko.
"At DECATHLON, supporting athletes is at the heart of our philosophy. With the boom in the purchase of scooters, it was our responsibility to ensure the safety of our customers, and that means insurance. It was therefore natural for us to enter into a partnership with Luko, a new French insurance company that shares our values: responsibility and the best product at the right price," says Louis Gagneux, Insurance Director at DECATHLON.
Key figures
According to a study conducted by Luko among its policyholders, 34% of them are considering the purchase of an electric scooter in the coming months, 8% already own one.
The reasons that would drive Luko policyholders to purchase an electric scooter are:
⏰ 63% for time savings in daily commuting;
🌱 26% for ecological reasons;
💰 11% for cost saving reasons.
Study conducted among 300,000 Luko France multi-risk home insurance policyholders
Luko accelerates its growth and ambitions
2022 represents a pivotal year for the neo-insurer, which has strengthened its leadership in Europe with the acquisition of its German competitor Coya. Luko has developed new distribution channels via real estate professionals and expanded its housing offer through the acquisition of Unkle, enabling it to support both homeowners and renters. 
Now the leader in Europe with over 400,000 customers in France, Spain and Germany, Luko continues to grow and expand its offerings while maintaining the transparency, simplicity and lowest possible prices that are the start-up's signature.
Média Kit
Our visual resources and photos to download.
média kit